---
2022-08-08 By NAYCC
Rooms used:
Tournament Rooms: Sheraton and McKnight
Sheraton Room: Under 8 Open and Girls, Under 10 Open and Girls, Under 12 Open, Under 14 Open.
McKnight Room: Under 12 Girls, Under 14 Girls, Under 16 Open and Girls, Under 18 Open and Girls.
Skittles (Analysis) Room: Canadian Room (Located near the Sheraton Room
Camp/ Move recording session: Alberta Room (Located near the McKnight Room).
Information Desk will be located near the Sheraton Room.
Procedures for the first day:
Players who are in the supervised camp can go straight to the Alberta room as early as 8:30 am.

Players should head to their designated rooms (Sheraton and McKnight) from 9:15 am. We will start the opening announcements in each room as early as 9:30 am. We ask that parents do not enter the tournament rooms. The information provided in the opening announcements is what is available in this document. Parents may wait in the hotel lobby, Canadian Room (Skittles room), the Carver's steakhouse (restaurant designated for the event by the hotel for the tournament), or another non tournament area.

We expect to start the games at 10 am sharp on the morning of the first round.

From 8:30 am-9 am we will have a "recording the moves" information session in the "Alberta room." This session is free of charge and is aimed to help players who are not very experienced in move recording. Parents may attend that session with their children.
Food and beverage:
Water and other beverages are permitted in the playing area. Snacks that are nut free and are not distracting are also permitted, however, we won't allow players to have meals in the tournament area.

The hotel will open Carver's steakhouse for the tournament where snacks and meals will be served at a discount for the participants. The Carver's steakhouse is located near the Sheraton room.

On Thursday, August 11th, the city of Calgary Tourism is providing a soda and ice cream truck for the participants. Each participant will receive a voucher for one item. This will be available outside of the main hotel doors between 12:30-2:30 pm.
Map of the hotel: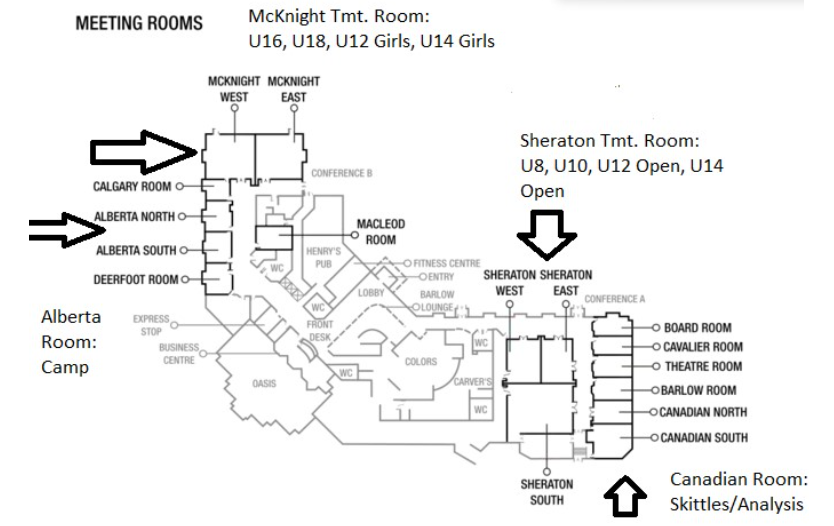 Published at 2022-08-08 09:46:20 by GG W